Linking up with Mama M. over at
My Little Life
for another Five Question Friday.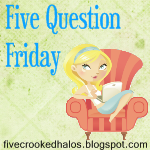 1. Have you ever visited another country?


When I was seventeen my family went to Costa Rica for five days. It was such an amazing experience. First of all, the rainforest and coastal areas are paradise on earth. The second place we stayed was awesome. I'm talking lush greenery everywhere, an open-air dining area, and monkeys that came down from the trees at exactly 5:30 every evening to be hand fed bananas. Secondly, aside from all the fun, it was an eye-opening experience to visit a third world country and I came back with a sincere appreciation for all that I had in life.
2. Where is the strangest place you have ever been?
I used to do all of the estimating for my dad's window treatment business. Every once in awhile, I would find myself in some pretty weird homes. In one house I was surrounded by clocks EVERYWHERE. I mean there wasn't an inch of bare wall to be seen. But that still doesn't beat the time I went to an affluent neighborhood to find a middle-aged man in nothin' but his skivvies and red "sneaker" slippers eating cereal with a bottle of Jack and CMT blaring so that you woulda thought the concert was in his living room. At ten in the morning. I got out of there as fast as I could.
3. What is your favorite season?

Hold up... there are seasons?!? Here in Central FL we have chilly (below 70), beautiful and comfortable, blazing and stifling, and some more comfortable. As such, I love it all with summer being my least favorite.
The season I miss the most is autumn. Every year when late September sneaks up I get this insatiable desire to go north. Growing up in Pennsylvania, fall was absolutely beautiful driving through the hills of amber, red, and gold.
Sigh... what I would do for a big pile of crunchy leaves and a chilly hayride right now...
4. What one song will always cheer you up?

Gosh, there are so many...
Right now the irresistible bassline of the Violent Femmes'
Blister in the S
un comes to mind. I wanna jump up and dance just thinking of it.
5. What Disney character do you resemble most?

hmmm... probably Belle (in looks and nature), as boring as that may be. (And DadMan even resembled the Beast well in his long-haired days. heehee)
Off to finish up the housework before our company comes for the weekend. Woo-hoo!!!
Have a fantabulous weekend!!!