Look at these little cuties DadMan saved this morning! Unfortunately, he didn't know they were in the street until
after
he backed over two :(
He was quick to look all over and find three more, scoop them up and deliver them to the sanctity of the back yard, where they went straight to the pond for a morning dip.

And now on to my first ever Five Question Friday: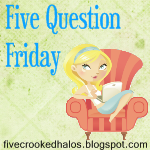 1. Do you collect anything?
Do dirty diapers count? No matter how hard I try to rid myself of them, they seem to magically and exponentially appear again. Also in this category: ants, spiders, dust, and graham cracker crumbs. As for conventional collections: no, DadMan collects enough junk for everyone in our family.
2. Name 3 celebrities that you find good looking.


Matt Bohmer. I think that's his name. The guy from White Collar.
hmmm... now I can't think of any others or get him out of my head. Seriously, it should be illegal for anyone to be so good looking!
Gerald Butler. I'm a big sucker for rugged guys. Throw in an accent (especially an Irish rogue) and forget about it!
Did I mention Matt Bohmer?
3. Do you have any scars? If so, what's the story behind it (them?)?
I've got several pox scars on my face, which is funny considering I had the chicken pox when I was three months old and my mom said I didn't even know they were there. I also have a scar above my right eye from a coffee table incident. There's a scar in my the knuckle of my left index finger that I can't for the life of me remember how it got there. When you're a professional ass-kicker such as myself, you just don't remember every little bump and bruise you get along the way.

4. What is a food that you like to eat, but others might think it's gross or weird?
french fries + ice cream (especially a chocolate Frosty)

5. Have you ever seen a tornado in real life?
No, but I dream about them
all the time
! Psychoanalyze that one, ladies!
If you want to join in on the fun, head over to
My Little Life
to link up!