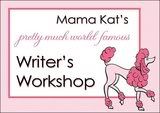 Linking up with another of Mama Kat's Writer's Workshop. It was a tough call because there were some great prompts, but this week the prompt I chose was:
Write about your wedding song. What was it and why did you choose it?
So about five weeks ago I packed up the kiddo and headed north to the 'burgh for my big brother's wedding. The church was majestic. The reception was at a gorgeous but quaint little-known farm nestled away in the green rolling hills, with flowers blooming, a serene deck with pretty white wicker chairs. It was idyllic to the Nth degree. And when the glowing newlyweds took their first turn on the dance floor it looked like this:
Ah... so beautiful and oh so sweet! And there was the voice of an angel that sounded like this:
Wait a minute, there! Is that Eva Cassidy's Songbird serenading my brother and his blushing bride?!? The same Songbird that spun for DadMan and me 5 1/2 years ago?!?
Yes. It. Was.
Oh, no, he didn't!!!
In his defense, my brother wasn't at my wedding. Truth be told, we didn't even know each other back then. Brother of a different mother. That's another story.
But I do specifically remember having an entire conversation about this song at our Emerald Isle family vacation three summers ago. I was nebbing through his playlist and was all, "You know Eva Cassidy???" Many people don't. Especially guys. This was when I learned just how ecclectic my big brother's palette of music is. Marilyn Manson. Robert Johnson. Fergie. Eva Cassidy. Oh, yeah -- back to the angelic songbird herself.
So we talked about Eva Cassidy, her amazing and breathtaking vocals, the tragedy (melanoma sent her to heaven at just 33), and the fact that Songbird was one of my all-time favorite songs and
my. wedding. song.
In all seriousness, I loved the fact that they also chose this song. Her rendition is truly one of the most beautiful songs ever. EVER. How could I possibly blame them for also wanting to dance to the most pure and heavenly love songs ever created? And amazingly enough, so many people have never heard it.
Or at least not until Love, Actually. Remember that sweet and steamy scene with Laura Linney and the hot Brazilian guy who played Carl (and Paulo on Lost)? This was the song playing while they almost got it on. Almost. (That was one of those characters you just wanted to strangle and slap silly!) Anyway, that was the first time I ever heard this song and just remember thinking, "Who is this?! I am so in love with this song!" and playing the scene again and again just so I could hear the song again. Well, it may have also had a tiny something to do with the mostly naked Brazilian actor -- hey, I wasn't married yet!
Songbird instantly became one of my most beloved songs and I knew that it was what I wanted to dance to at my wedding. As far as DadMan was concerned, I could do whatever I wanted for the wedding as long as I ordered the white cake with buttercream icing and amaretto filling!
For those of you who are not already acquainted, please have a listen. I double-dog dare you not to be completely captivated by its power and beauty!